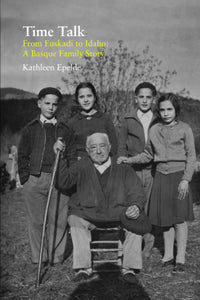 Time Talk
In the early 1900s, Kathleen Epelde's grandparents left Bizkaia and Gipuzkoa in the Basque Country to immigrate to Idaho where her grandfathers herded sheep in the mountains; her grandmothers worked in the boardinghouses that had sprung up in towns throughout the West, to house the herders when they came down from the hills.
When Kathleen returns to Boise, after nearly fifty years of being away, the landscape of her past unfolds. Walking in the foothills each day, the desert spreads out below, and she begins to remember. With grace and sensitivity, she writes of the strength and character of her Basque grandparents in leaving their home forever with little money and even less English, and of how their immigrant legacy shaped her parents-her.
Time Talk is a story of love and loss, of immigration and survival. It's a story of losing home and finding it.