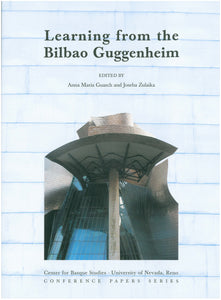 Learning from the Bilbao Guggenheim (Hardcover)
Edited by Anna Maria Guasch and Joseba Zulaika.
Papers given at the conference held April 22–24, 2004, Reno, Nevada. The conference focused on discussion of the "Guggenheim effect" five years after the opening of the Guggenheim Bilbao Museum, and reflected on its influence on art, architecture, museums, and urban renewal.
274 pages; photos; index. Cloth, $29.95 (ISBN 1-877802-51-4).