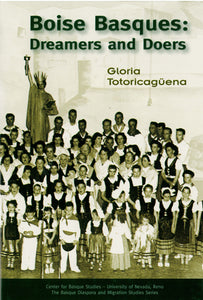 Boise Basques: Dreamers and Doers (Hardcover)
by Gloria Totoricagüena.
This work illuminates the Basque migration and societal integration experience in Boise, Idaho. Personal testimonies enrich this historical chronicle from the nineteenth century immigrants to today's professionals and business owners. [Originally published by the Basque Government as part of their Urazandi series.]
326 pages; photos, index. Cloth (1-877802-37-9), $29.95.