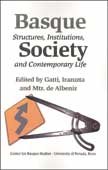 Basque Society: Structures, Institutions, and Contemporary Life (Paperback)
edited by Gabriel Gatti, Ignacio Irazuzta, and Iñaki Martínez de Albeniz; translated by Cameron J. Watson.
An overview of the social, political, and cultural reality of the Basque Country. The twelve authors describe the social structure, analyze the institutional structure that maintains Basque identity, and examine the principal processes of change in contemporary Basque society.
2005. 334 pages. paper (ISBN 1-877802-25-5), $14.95