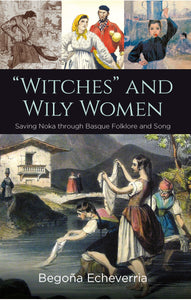 "Witches" and Wily Women: Saving Noka through Basque Folklore and Song
"Equipped with a native knowledge of Basque and a keen sense of curiosity concerning how gender issues and questions of identity are encoded in language, the author takes the reader on a fascinating journey. Along the way a rarely seen face of Basque culture comes into view, enhanced by the author's remarkable understanding of traditional Basque song and storytelling." —Roslyn M. Frank, Professor Emeritus,
Department of Spanish & Portuguese, University of Iowa
A passionate and enlightened defense of noka, the second person familiar pronoun for a female addressee in the Basque language ("Euskera"), this book provides unique insights into Basque culture, language, and gender. ese insights may otherwise be lost forever,
as noka is disappearing from speech. Echeverria shows how noka became marginalized, and illustrates the vibrant sociolinguistic life noka has led over 500 hundred years of Basque history. By uncovering this rich legacy for the rst time in one monograph, and contributing original lyrics using noka of her own, Echeverria hopes to increase
awareness of noka and the surprising stories it tells—and perhaps revitalize noka use. In addition to specialists in Basque studies and endangered languages, this book's broad scope and unique methodological approach should interest readers in gender studies, folklore, folksong, linguistics, and anthropology.