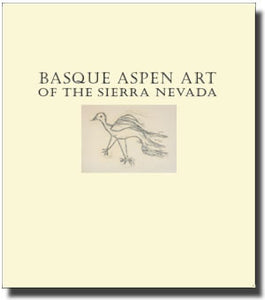 Basque Aspen Art of the Sierra Nevada
Bilingual text in both Basque and English
Rubbings and text by Jean Moore Earl and Phillip I. Earl, Basque translation and introduction by J. Mallea-Olaetxe
The early years of the twentieth century represented the high point of the sheep industry in the western United States, and the mountain meadows of the Sierra Nevada were an important source of summer forage. Basque sheepherders, many recently arrived from the Pyrenees, were primarily responsible for tending the flocks that grazed there. 
The sheepherder's life among the aspen groves was isolated and solitary, and it led many herders to utilize the trees as a means of self-expression. Using simple tools such as pocket knives or nails, the herders turned to the white bark of the aspens. On this living canvas, they etched a remarkable series of carvings, recording everything from their own names to observations of the natural world around them, memories of the Basque Country as well as erotic fantasies. Over time, the living but perishable medium subtly altered the sheepherders' work, and eventually doomed it. Most of the carvings are now lost. 
Basque Aspen Art of the Sierra Nevada explores the unexpected junction of art, culture and nature. Jean Moore Earl and Phillip I. Earl have spent forty years locating, identifying, and preserving Basque aspen carvings, eventually assembling over 130 wax-on-muslin rubbings made directly from the carvings. This book reproduces over a hundred of these rubbings. 
There are also essays describing the sheepherders' world, the style and content of the carvings, and the Earls' efforts to preserve them. Accompanying the text is a companion translation in the Basque language by noted Basque scholar Joxe Mallea-Olaetxe. 
The Basque aspen carvings are unique to the mountains of the American West, made by solitary men whose lives and thoughts were recorded on the living bark of trees. This book allows us to enter their world and visions, and to enjoy the beauty and magic of the precious and ephemeral art form. 
Published by Baobab Press, Nevada
ISBN 978-1-936097-00-5