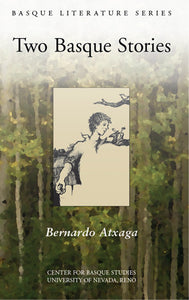 Two Basque Stories
by Bernardo Atxaga; translated from Basque by Nere Lete.
This sixth volume of the CBS Literature series presents for the first time in English two of the author's short stories previously published in Euskara, the Basque language, "Two Letters All at Once," in which Old Martin, a Basque immigrant living in Boise, receives two letters from Europe in a period of ten days, and "When a Snake Stares at a Bird."
Bernardo Atxaga broke onto the international scene with the 1988 publication of Obabakoak in Euskara. The novel has been published in 26 languages, including an English edition (Vintage, 1994, Graywolf 2009), and earned the author Spain's top narrative prize, the Premio Nacional de Narrativa, the Premio Milepages (the Paris Milepages Prize) (1991), the Premio Tres Coronas de los Pirineos Atlánticos (the Atlantic Pyrenees Three Crowns Prize) (1995), among others. That book was praised in The Observer of London as "a brilliant novel, full of life," and by The New York Times Book Review as a "delicious paella, Baroque and Spanish." The emotional landscape of Obaba can be described as a virtual infinite where the narrator's memory begins weaving a fabric suggestive of stories, which thread together the meta-narrative reflection with strategies of literature of the fantastic.
In Two Basque Stories, Atxaga turns his attention to complex lives lived in the "rustic" Basque village of Obaba and the creative process of identity. The first short story, "Two Letters All at Once," tells the story of Old Martin, a former sheepherder consigned to a generic Boise neighborhood. In order to make sense of his life, Martin narrates for an un-understanding grandson the life-altering deception that led him from his native village to the American West. In "When a Snake Stares at a Bird," a young city-bred boy spending time in his grandfather's village comes to realize that things he once believed to be simple: nature, animals, and his grandfather, are much more complex than he could have imagined. Evocative illustrations by Antton Olariaga compliment these at once simple and deceptively complex stories. These stories, originally published in Euskara in 1984, cemented the popularity of Atxaga in his homeland.
117 pp., paper (ISBN 978-1-877802-85-0), $19.95.